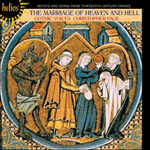 The Marriage of Heaven and Hell
'A wonderful collection. Lusciously sung sensuous music … a remarkable addition to the distinguished series of records from Gothic Voices' (Gramo ...
'Gothic Voices at its most imaginative. The group's choice of repertory is sublime and the freedom of its interpretation is bracing. Recommended' (BBC ...
» More