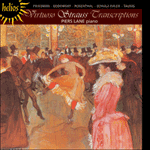 Strauss Waltz Transcriptions
'Once again Piers Lane demonstrates his supreme virtuosity and brilliant technique (at times it is quite unbelievable that only ten fingers are at wor ...
'Spectacular, pure confectionery of the highest possible quality. Excellent sound, first-rate notes. In sum, Want List material … enormous good f ...
» More