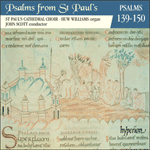 Psalms from St Paul's, Vol. 12 139-150
'The intense pleasure and satisfaction to be gleaned from these discs is hard to explain to the uninitiated. Huw Williams'accompaniments are models of ...
'[This CD] has concluded an impressive document of music for Anglican worship. I once wrote that it is not likely to be done better. That is all the m ...
» More