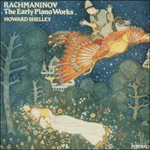 Rachmaninov: The Early Piano Works
'Mr Shelley's expansive, passionate playing and his command of the broad structure of the piece capture its atmosphere eloquently. It is valuable, too ...
'This is an album of pleasant discoveries, 60 minutes of them, beautifully played and truthfully recorded. Enthusiastically recommended – indeed, it i ...
» More