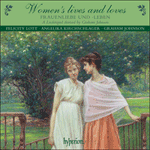 Women's lives and loves
'The performances give unalloyed pleasure. Lott's still-radiant soprano combines beautifully with the vibrant, musky mezzo of Kirchschlanger, while Jo ...
'I'll leave you to experience the conjuring for yourself. For conjuring it is: any element of the didactic is totally absent in this seamless garment ...
» More