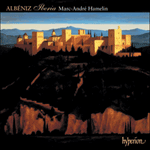 Albéniz: Iberia & other late piano music
'Here is the most immaculate, effortless and refined of all Iberias. Where others fight to stay afloat, Marc-André Hamelin rides the crest of e ...
'Hamelin again achieves the almost physically impossible with seeming ease. Albéniz's multiple layers are finely balanced, and apparently awkward text ...
» More