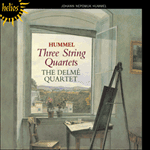 Hummel: String Quartets
'Graceful and inventive works, easy on the ear, fresh in invention and refreshingly unpretentious. They should give a lot of pleasure' (Gramophone)
'His trade-mark invention never flags, allied with grace and sophistication and a gift for melody second to very few. A fitting tribute to one of the ...
» More