Bach: Organ Miniatures
'Just as, in my youth, I almost preferred to lick the scrapings from the bowls in which my mother had prepared cakes than to savout the finished produ ...
'An attractive way of gathering up some of Bach's less obvious masterpieces, and they are all splendidly played, and recorded on a fine Swiss organ' ( ...
» More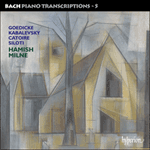 Bach: Piano Transcriptions, Vol. 5 – Goedicke, Kabalevsky, Catoire & Siloti
'Milne plays the more outgoing works with the sharp articulation and gestural clarity that makes his Medtner so refreshing (his left-hand profile is e ...
'This is a welcome return to the recording studio for a British pianist who has maintained a consistently high standard for many years. Hamish Milne i ...
» More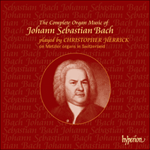 Bach: The Complete Organ Works
'Let me say without hesitation that Herrick's performances are models of clarity, accuracy, precision and musicality … this is a complete Bach th ...
'Herrick is one of the few organists who does justice to these difficult, elusive pieces … What a singular joy to hear the organ played with such ...
» More