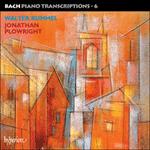 Bach: Piano Transcriptions, Vol. 6 – Walter Rummel
'Time and again you are reminded of real technique as opposed to a more familiar, glib and colourless alternative, and it is surely no exaggeration to ...
'Amazing too is Jonathan Plowright's ability to project these pieces while keeping every voice and nuance in balance. Performances of rare identificat ...
» More