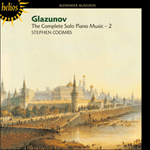 Glazunov: The Complete Solo Piano Music, Vol. 2
'Coombs is clearly equipped to face the most prodigious demands … this is a most impressive and highly enjoyable release' (BBC Music Magazine)
'A dazzling series of salon and genre pieces full of the easy charm and winning tunefulness that also mark Glazunov's ballet The Seasons. Steph ...
» More