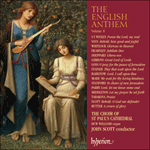 The English Anthem, Vol. 8
'The performances are excellent, as are William McVicker's booklet-notes, and the great echo's presence is felt as friend, not foe' (Gramophone)
'If this is Scott's swan song with the St Paul's Choir, it is a brilliant one. The choral tone and discipline are outstanding … The Hyperion engi ...
» More