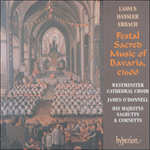 Lassus: Missa Bell' Amfitrit' altera
'Elegant and imaginative… the wind-band pieces are especially gorgeous. [The Mass] receives an opulent interpretation that stands out in a rather crow ...
'This is a superb record, and Hyperion must be congratulated on such an imaginative undertaking. All admirers of the Golden Age of Church Music, and a ...
» More