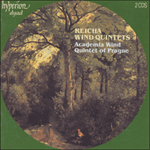 Reicha: Wind Quintets
'The Prague Academia Wind Quintet are fully at home in this agreeable music and these musicians convey their own pleaure in the composer's ready fund ...
'Will doubtless take a place among my favorite CDs. The wit and charm of both the music and the playing had me laughing in delight at many points. If ...
» More