The Hyperion French Song Edition is devoted to the presentation of the rich tradition of the
mélodie
and contains songs well-known and not so well-known by composers familiar and not so familiar.
Écoutez la chanson bien douce
Qui ne pleure que pour vous plaire.
Elle est discrète, elle est légère:
Un frisson d'eau sur la mousse!
Listen to the very gentle song
Which weeps only to please you.
It is discreet; it is light:
A trembling of water on moss!
Paul Verlaine's lines perfectly evoke the aesthetic pleasures and expressive boundaries of the French mélodie—the piano-accompanied art song where poem and music combine to create more than the sum of their parts. The word mélodie was first used in this way when Hector Berlioz composed songs to texts from Thomas Moore's Irish Melodies; the name soon came to be used to distinguish the more serious form from the lighter and populist chanson. The mélodie thus came into being in about 1830; after the death of Francis Poulenc in 1963 it ceased to be a significant form for it was of little interest to the young composers influenced either by Boulez or Messiaen.
Within this span of 130 years of glorious song-writing there are a number of high-water marks and one of these was undoubtedly the period at the end of the last century when Verlaine's subtle and understated lyrics were set to music by various composers—most notably by Gabriel Fauré. The songs from this fin de siècle period seem to encapsulate the idealized felicities of French culture. The English visitor (or armchair traveller) to France was enraptured by the lighthearted insouciant charm which seems to play so small a part in his own country's music which was dominated by portentous Wagnerian echoes, the mirthless rusticity of folksong or the vulgarity of the music hall. He responded naturally to the celebrated understatement and restraint of French music, where profundity of feeling is never allowed to plumb the inelegant and murky depths. Veiled intimations of forbidden delights and promises of 'luxe, calme et volupté' were on offer but remained deliciously unspecific in their invitations.
The more the threat of Napoleon receded into memory, and the more powerful Germany became under Bismarck (and thus more of a rival to Britain's Empire), the easier it was for many people to wean themselves from Britain's early Victorian dependence on German culture (engendered in no small measure by Prince Albert and a German Royal Family) in favour of closer ties with France. There had long been a love affair with that nation's food and wine, but the craze for French music suited even the somewhat puritanical English listener who could allow a subtle hint of the sybaritic life to enter his ears without necessarily allowing it to touch his liver. The attraction of the mélodie is less palpable than that of pâté de foie gras; it is something to do with the subtle art of suggestion. The quality of the music seems powerfully evocative of France, even if each and every word of the text is not understood by non-French listeners. Away from its home country, a mélodie is a potent distillation of the Parisian spirit, a type of exportable musical stock-cube which dissolves in the heat of performance and releases the quintessential flavours of salon and boulevard. English music-lovers of our grandfathers' generation, stuck between the two stools of unsophisticated nineteenth-century Anglo-Saxon balladry and the self-conscious profundities of Teutonic introspection, fell in love with an alternative culture as typified by its vocal music. It might be said that a good number of their descendants have remained similarly enchanted, with successive generations of French composers strengthening the affections of their British audiences.
Of course there is much more to French song than the muted and exquisite shades of a cultivated decadence, but it is perhaps this aspect of the art which has always seemed so alluring to those who dream of a more bohemian life across the Channel. We in present-day Britain are the inheritors of a long tradition of admiration of, and support for, the mélodie. We played host to Gounod for two and a half years in the 1870s (a fact that is fully illustrated on the second disc in this set); in Mary Garden and Maggie Teyte we provided Debussy with his first two Mélisandes and two of his most distinguished song interpreters. In Winifred Radford and Betty Bannerman those great French singers Pierre Bernac and Claire Croiza found their most devoted teaching disciples. Bernac and Poulenc thought their best audiences were in this country, and Bernac's books on French song appeared in English translation long before they were taken up by French publishers. These are but a few examples of a link between England and French song that is almost as hallowed as that between an Englishman and his claret. The connections between French song and North America are also manifold and account for the fact that many of the most avid and skilled performers of the mélodie are to be found in the United States and Canada, and that many American song composers have looked directly to France for inspiration.
These time-honoured links go some way to answering the question of what justification there could possibly be for an English record company to embark on a series devoted to French song. For the sceptic who prefers French artists for French music, and German for German, the idea may seem just as ridiculous as a Schubert Lieder series from a British-based company. Is the art of mélodie outside the capabilities of all but the French? Debussy and a number of other French composers did not think so, but we may begin answering this by looking eastwards across France's borders.
The Germans may still find it difficult to believe that the Lied is no longer their province alone, but there have been too may distinguished singers in the last few years from Holland, Sweden and Eastern Europe who have become celebrated practitioners of the art (some of these now heard on German record labels as regularly as the home-grown article) for this insularity to persist. There are discerning audiences for German song recitals everywhere, and distinction of voice and intelligence seems to melt national boundaries in this field; languages are taught to a wider range of people, and travel seems generally available in a way unheard of even a few decades ago. European unity in matters musical seems ever more to be a practical possibility. The increasingly important role played by American singers of the younger generation is also an important sign that the venerable art of German Lieder is now an international art form. The British scene continues to provide artists in the distinguished line of Peter Pears, Janet Baker and their successors who have mastered the medium (including Margaret Price who has made her home in Germany for some years) and the worldwide fame of Gerald Moore has meant that British accompanists have long staked their claim to be taken as seriously as their European counterparts.
When dealing with Latin peoples and Romantic languages, the Englishman is denied the Nordic link of race and temperament which he shares with the German, but the fascination of opposites felt for the neighbouring French represents something perhaps even more potent. France after all is the only country near enough for a British swimmer to reach. French song is a realm where the Anglo-Saxon or Celtic artist or listener is not overshadowed by his German counterpart who is usually uninterested in serious French song—although even this ancient prejudice is changing fast. In musical terms the Englishman's versatility is shown by his ability to embrace the Lied and the mélodie with equal fervour. Thus it is that most British singers at our conservatoires are brought up to revere German and French song in equal measure. It is a reflection of this acknowledged versatility of both British artists and audiences, and because of the great interest in French song in the English-speaking American and Antipodean worlds, that we launched The Hyperion French Song Edition, starting with a centenary celebration of the mélodies of Charles Gounod; in true international spirit, this survey also includes a selection of the little-known English songs, and the cycle Biondina written in London to Italian texts.
Hyperion has long been in the forefront of promoting the mélodie (Duparc, Fauré, Hahn, Koechlin, Poulenc and the anthology La Procession are already in the catalogue) and the French Song Edition continues this tradition. It is obvious that the comprehensive Gesamtausgabe tradition of the Hyperion Schubert Edition is neither practical nor desirable here. Instead we aim to offer carefully chosen representative selections of songs by French composers both celebrated and neglected. On occasion, a significant composer will merit a double album, but a single album devoted to a composer will be the more usual format. On occasion, composers from the same epoch will share a disc; the mélodie is a form which responds well to the art of the anthologist, and there are great songs by minor composers which deserve inclusion in a survey such as this. When appropriate, and in Songmakers' Almanac fashion, more than one singer will take part in the tribute to the major masters of the medium.
There have already been distinguished recordings on other labels of the complete songs of a handful of the greatest French composers. We do not aim to duplicate this achievement, and neither will we issue and number our releases in a way which attempts to take the listener through a chronological sequence of composers. Although each disc will have translations, annotations and commentaries, the garden of delights which is the mélodie is not the place for a structured history lesson. In any case, the right singer, the right song composer and the successful marriage between them in the recording studio could never be engineered in such a regimented way. There is no deadline for the completion of this recording project, but it is Hyperion's undertaking that after some years the collector of the series will have a substantial overview of the vast terrain of French song where masterpieces and favourite songs are heard side-by-side with little known treasures. In that respect at least our aims are not dissimilar from those of The Hyperion Schubert Edition. The commentaries will be cross-referenced between volumes where certain important lyrics by such poets as Gautier and Verlaine have been set by more than one composer. And the singers? Hyperion is a British-based company with a commitment to British artists (some of whom are already much admired in French song by the French themselves) but in a similar fashion to the Schubert project we aim to welcome artists to this series from anywhere in the world—including France, of course.
Graham Johnson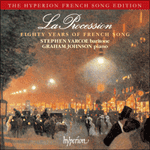 La Procession
'This generously-filled disc will afford many, many quarts d'heure of pleasure' (Gramophone)
» More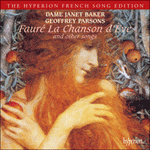 Fauré: La chanson d'Ève & other songs
'This varied and generous selection of 28 songs is perhaps the best general introduction to this important side of Fauré's output and is also one of G ...
'Deeply considered and deeply moving performances' (BBC Record Review)
» More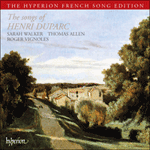 Duparc: Songs
'Roger Vignoles is a most sympathetic accompanist, and virtuosic where virtuosity is called for, and the whole set is at one with Duparc's own evaluat ...
'For a disc of all 17 of Duparc's melodies, the clear first choice is Sarah Walker and Thomas Allen' (BBC Music Magazine)
» More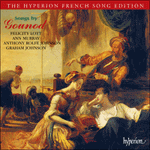 Gounod: Songs
'Exemplary … enchanting … ravishingly sung' (The Daily Telegraph)
'Superb … perfection … Best of the year' (The Sunday Times)
» More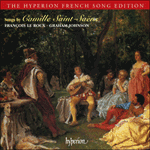 Saint-Saëns: Songs
'This is the most resounding blow yet to be struck for the mélodies of Saint-Saëns … Le Roux is one of the most charismatic performers of our tim ...
'Musical jewels surface with delightful consistency in this 27-song recital. An absorbing and revelatory disc' (BBC Music Magazine)
» More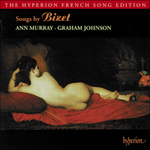 Bizet: Songs
'A most attractive addition to the song library, finely recorded and invaluably well documented' (Gramophone)
'I could rhapsodize about every one of these songs; they all enchant. Immensely enjoyable—a CD that will make repeated visits to my player' (Fanfare, USA)
» More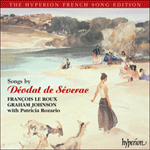 Séverac: Songs
'Another captivating issue from Hyperion. Neglected yet heartwarming songs winningly brought to life. An outstanding issue' (Classic CD)
» More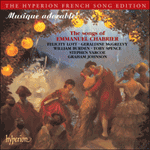 Chabrier: Songs
'[A] real treasure of a treasury' (BBC Music Magazine)
'I cannot begin to tell you what delights await you on these discs … irresistible gems of melody, wit and tenderness. The enterprise has clearly ...
» More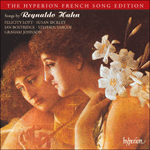 Hahn: Songs
'What treasures are here … the two discs provide an unmissable opportunity to explore a composer who is underrated and overlooked perhaps because ...
'Some fascinating rarities' (Gramophone)

'To wonderful songs … [the artists] bring delicacy, grace, an emotion the more poignant for being und ...
» More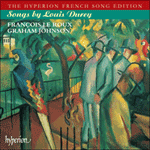 Durey: Songs
'A vital addition to Hyperion's French song series, beautifully sung and played' (Gramophone)
'Johnson has done much to rehabilitate the reputations of obscure composers of French Songs' (BBC Music Magazine)
» More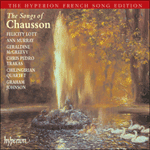 Chausson: Songs
'Up to Hyperion's habitual high standard' (Gramophone)
'Felicity Lott…is radiant and unhurried and the pick of an excellent crop of singers' (BBC Music Magazine)
» More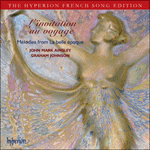 L'invitation au voyage – Mélodies from La belle époque
'A disc to treasure' (BBC Music Magazine)
'John Mark Ainsley understands the idiom of these beguiling songs and delivers them with grace, fluency and clear diction … Graham Johnson's play ...
» More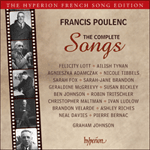 Poulenc: The Complete Songs
Graham Johnson is simply the greatest living authority on French song; an artist whose innate feeling for the music is combined with prodigious scholarship. Following his many wonderful recordings in Hyperion's French Song Edition, Johnson turns t ...
» More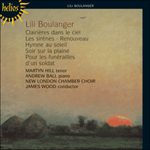 Boulanger: Clairières dans le ciel & other works
'Utterly seductive music with depth, sensitively performed. Highly recommended' (Classic CD)
'Truly one of the great French song cycles of the first quarter of this century' (Fanfare, USA)
» More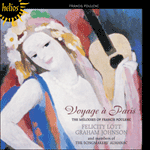 Poulenc: Voyage à Paris
'Highly desirable' (BBC Record Review)
'This record will enchant you. Best of the Month' (Hi-Fi News)
» More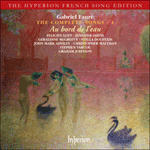 Fauré: The Complete Songs, Vol. 1 – Au bord de l'eau
'Hyperion's sound is impeccable and in both his playing and accompanying essay, Graham Johnson penetrates to the heart of one of music's most subtle a ...
'There can be nothing but praise for Johnson's pianism and his selection and arrangement of the songs. Volumes 3 and 4 are eagerly awaited' (The Sunda ...
» More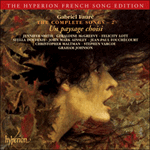 Fauré: The Complete Songs, Vol. 2 – Un paysage choisi
'All the singers involved in this ideally presented and recorded offering perform with a special ardour and commitment and Graham Johnson is, as alway ...
'There can be nothing but praise for Johnson's pianism and his selection and arrangement of the songs. Volumes 3 and 4 are eagerly awaited' (The Sunda ...
» More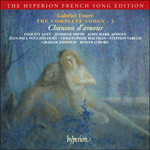 Fauré: The Complete Songs, Vol. 3 – Chanson d'amour
'Recording and presentation are the stuff of dreams. Hyperion has done Fauré proud' (Gramophone)
'The songs certainly show Fauré to possess a far wider expressive range than an acquaintance with just a handful of his best-known examples would sugg ...
» More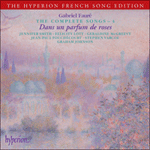 Fauré: The Complete Songs, Vol. 4 – Dans un parfum de roses
'There are songs of a fragrance, ambiguity and vision unique to Fauré and all the singers involved in this glorious project, while not always in their ...
'This completes Hyperion's recording of all Fauré's songs master-minded by Graham Johnson with a quintet of specialist singers: Jennifer Smith, Felici ...
» More