This is a wide selection of music available on Hyperion by composers who were working during the First World War. We have been recording this music for many years. Many commemorative events, broadcasts and performances of this repertoire are currently taking place, and for those who have found themselves intrigued, we are offering 20% off all these CDs and downloads to encourage further exploration of this fascinating music. Taster tracks from many of these albums are available on our August 2014 free sampler. This offer is available until the end of 2014.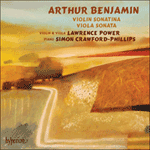 Benjamin: Violin Sonatina & Viola Sonata
Lawrence Power is Britain's greatest living viola player, the true successor to Lionel Tertis and William Primrose. Part of his mission is to perform and record music premiered by those masters of the previous century—among which are the works of ...
» More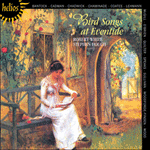 Bird Songs at Eventide
'If these ardent renderings&… do not find a place in your heart then you should wonder what your heart's made of' (Classic FM Magazine)
'Hyperion are to be congratulated on their courage in issuing this charming collection of songs which might be classified as an endangered species. Wa ...
» More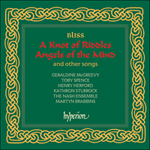 Bliss: A Knot of Riddles & other songs
'Kathleen Raine's poems drew the best from Bliss: simple eloquence, bold, shining gestures and memorable images including a fine nocturne: they are ma ...
'This double album is a revelatory document and a source of ever unpredictable delight … These songs beg to be performed more often.' (BBC Music ...
» More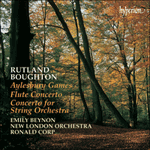 Boughton: Aylesbury Games & other works
'Vibrant performances' (The Daily Telegraph)
'A welcome release. Beynon is enchanting in the Flute Concerto, while the Aylesbury Games Suite and Concerto for String Orchestra are lovely repertoir ...
» More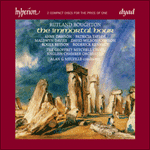 Boughton: The Immortal Hour
'This superb complete recording was a salutary shock: the opera is a kind of masterpiece, bleak, passionate and inspired … Enthusiastically recom ...
'Vividly atmospheric. Quite exceptional on all counts … I was quite bowled over [by] this delightful opera' (Gramophone)
» More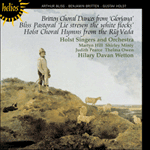 Britten: Choral dances from Gloriana; Bliss: Pastoral 'Lie strewn the white flocks'; Holst: Choral Hymns from the Rig Veda
'I loved this record … and the programme itself is a delight … this attractive English collection is a specially welcome addition to the CD ...
'This attractive English collection is a specially welcome addition to the CD catalogue … I loved this record … and the programme itself is ...
» More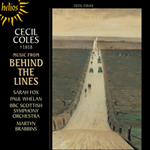 Coles: Music from Behind the lines
Cecil Coles was killed near the Somme on 26 April 1918 during a heroic attempt to rescue some wounded comrades. He was one of the most talented of the composers who lost their lives in the First World War, yet few remember him now. Travelling on a ...
» More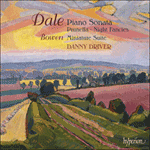 Dale: Piano Music
The monumental Piano Sonata in D minor was composed by a young Benjamin Dale while he was still a student at the Royal Academy of Music. He dedicated the sonata to York Bowen, who gave the premiere of the work in November 1906 and astonished liste ...
» More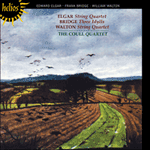 Elgar: String Quartet; Bridge: Idylls; Walton: String Quartet
'Eloquent and sensitive performances of some of the finest British chamber works of our century' (BBC Music Magazine)
'Outstandingly beautiful playing … of beguiling sensitivity and exhilaration' (CDReview)
» More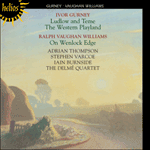 Gurney: Ludlow and Teme & The Western Playland; Vaughan Williams: On Wenlock Edge
'Adrian Thompson's superb performance … is a clear first choice' (BBC Music Magazine Top 1000 CDs Guide)
'A recording to cherish' (Gramophone)
» More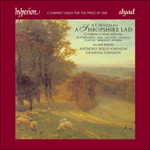 Housman: A Shropshire Lad
'An outstanding release' (Classic CD)
» More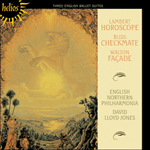 Lambert: Horoscope; Bliss: Checkmate; Walton: Façade
'A joy to welcome … all in all a disc not to be missed' (Gramophone)
'The music of all three is essentially English, splendidly dramatic and filled with wonderful tunes' (BBC Music Magazine)
» More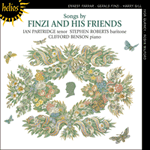 Songs by Finzi and his Friends
'A delightful programme in all respects including cover design and sleeve note' (Gramophone)
'Delightful collection … outstanding performances … superbly accompanied' (CDReview)
» More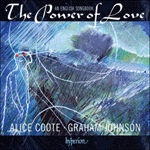 The Power of Love
The eagerly awaited Hyperion debut of Alice Coote, one of the most distinctive mezzos of her generation, who together with the indefatigable Graham Johnson explores love in its many manifestations in a pageant of English song and poetry that inclu ...
» More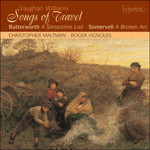 Vaughan Williams: Songs of Travel; Butterworth: A Shropshire Lad
'Christopher Maltman at all times sings beautifully, capturing the emotions behind the words and music, and is ably accompanied by Roger Vignoles. As ...
» More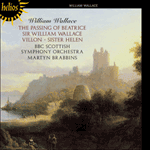 Wallace: Symphonic Poems
William Wallace's orchestral compositions rank amongst them the earliest attempts at the genre of the symphonic poem to be made in the British Isles.
» More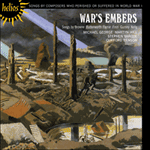 War's Embers
'An indispensable collection for those who know the repertoire; a revelation to those who do not' (Gramophone)
'If you enjoy English song, this set is a must … the singers are Britain's best, and their excellence is matched by the accompaniments of Cliffor ...
» More