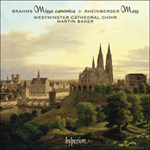 Brahms & Rheinberger: Mass
'Baker and his choir do a fine job with these pieces. The conclusion to Schaffe in mir is wonderfully exciting … while the close to Geistliche ...
'It is hard to imagine finer singing of these sacred scores from Brahms and Rheinberger than that from the Westminster Cathedral Choir. The Cathedral ...
» More