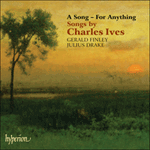 Ives: A Song - For Anything
'Finley is always essentially a singer—his tone and command of the singing line are a pleasure in themselves. But he also has the absolute mastery of ...
'I cannot praise Gerald Finley's performance too highly. It takes a very special artist to bring such unembarrassed fervour to General Booth Enters ...
» More