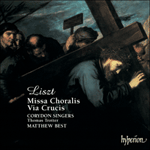 Liszt: Missa Choralis & Via Crucis
'A disc in a million. Matthew Best gives the music's every moment of excitement its full impact – stunning. Makes essential listening' (Gramophone)
'On excellent form, the Corydon Singers give an impassioned account, rich in tone and dynamic contrast and, above all, exemplary in the matters of ens ...
» More